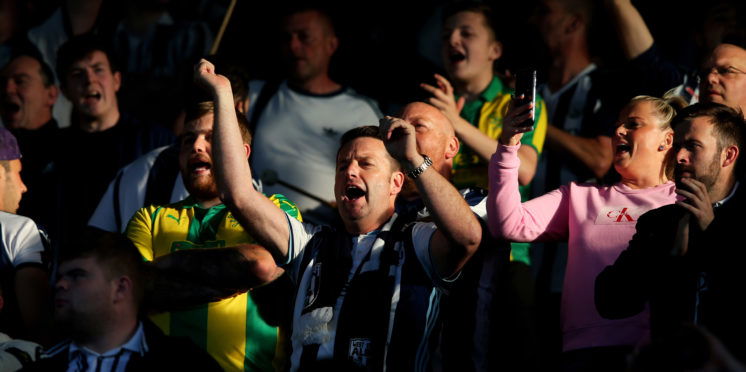 These West Brom fans are not happy with Zohore's performances
Matt Smith's goal for Millwall earned the visitors a point at the Hawthorns, as they drew 1-1 with West Brom on Saturday afternoon.
Albion were expected to win the game but their attacking play lacked any real impetus and a lot of fans were quick to point out the faults of one player in particular.
Slaven Bilic signed Kenneth Zohore for £8m from Cardiff in the summer and whilst he's only played a couple of games, these fans have already begun to show their dissatisfaction with his performances.
I honestly don't understand the reasoning behind signing Zohore anyway, let alone for £8M. Think he'll prove to be the biggest transfer blunder this season.

— WBA Report (@WBAReport) August 10, 2019
Can't we scour the free and unattached market for a striker? There must be several better than Zohore. Even if they're in their 40s.

— JR (@thejonreeve) August 10, 2019
Zohore is already looking like an expensive mistake

— neil atkins (@neilatkins2) August 10, 2019
Didn't notice Zohore today. Sawyer's looks very good tho, improves our midfield massively.

— Peter Osborn (@PeterOsbornCas) August 10, 2019
However, others were happy to stick up for the striker.
Zohore barely gets any service in both games and Albion fans writing him off after 2 games. Side to side passing through the midfield and only one clear chance. It can happen. Back your team instead of slagging them off. Result is disappointing but lots of positives to go forward

— Ricky Stevens (@RickyStevens93) August 10, 2019
Zohore needs games imo, I don't think he played much last season pal so may take a bit more time to adjust, played some nice stuff first half but needed that goal imo

— Stuart Hunt (@huntywbafc) August 10, 2019
Read West Brom Verdict
Zohore has not looked impressive in the first two league games of the season and there are a few parts of his game that are worrying, with his lack of movement the most obvious issue.
However, judging a player after just two games in a new system, featuring plenty of players who still need to gel together, is premature.
Bilic paid a relatively big fee for Zohore so he must have a plan for him, and he must also have faith in the striker.
In truth, the early signs haven't been encouraging but it's still far too early to write Zohore off.
---